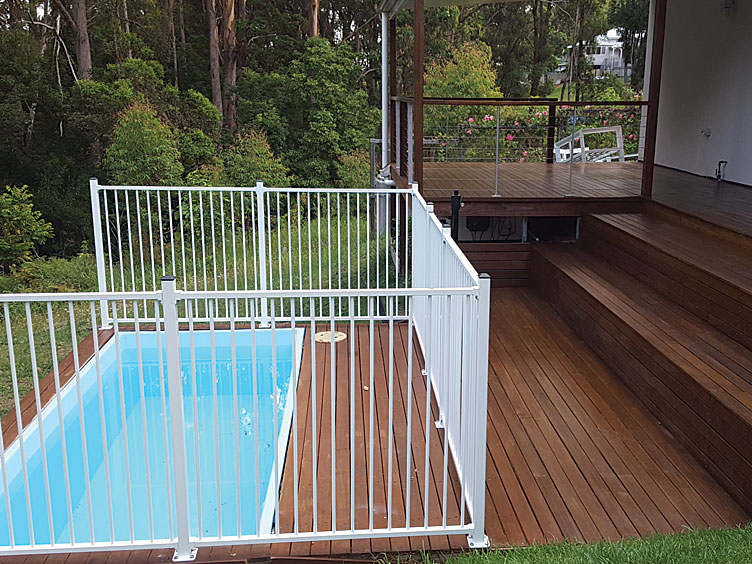 Swimming Pool Fencing
Fencing your pool is required by law. The regulation surrounding pool fencing has very specific requirements.
While it is a necessity, it can also be used to enhance the pool area – why not opt to do something nice with it? Think about whether you want your pool fence to be a feature or just blend into the background.
Skip Pools can construct your pool fence to suit your needs.
We have up to date advice on Council requirements and can advise you on style, colour and alternatives.
Glass Pool Fence
One great option for pool fencing is glass fencing. Glass fencing is very fashionable and very tough. Glass fencing is popular with its elegant finish and its ability to make your pool area look bigger than what it is. Glass pool fencing can really lift the presentation of your pool area.
Glass is toughened by compression to meet Australian standards and is thick enough to withstand substantial pressure.
PVC Fencing is a new product that is rapidly growing in popularity
When it comes to ongoing maintenance don't ignore PVC fencing as it comes with a minimum 30 year warranty, never requires painting, won't rot or rust and won't splinter.
Aluminium Fencing Panels
Aluminium fencing panels are often used to fence a pool. The aluminium flat top panel is the most popular type of aluminium pool fence because the fence is high enough to prevent young children from entering and suits the style of many pool areas. Aluminium fence panels are clean, attractive and cost effective. Being the regulatory 1200mm high and coming in a variety of colours aluminium fencing panels are designed for use around pools. Made from lightweight rust free aluminium, they are easy to install in ground or on a timber deck etc.
Contact us about your pool fencing requirements